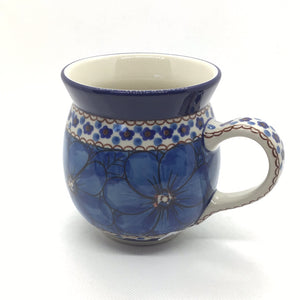 Bubble mugs are a big FAVORITE at W & P!
Cobalt Poppies, with it's beautiful blue flowers and accents of turquoise and red, is one of Ceramica Artystyczna's signature "unikat" (unique, in Polish) patterns created by highly-skilled artisans. Unikat patterns are more intricate and bear the name of the artist.  Additionally, these special pieces are rare and highly collectible. Since each piece is handcrafted, slight variations in color and pattern may exist. 
Pieces in this collection, like all Polish pottery, are created from white clay that is found only in the Boleslawiec region of Poland. The glaze is lead and cadmium free, is resilient to abrasives making it durable and resistant to scratching or chipping, and is also non-stick for easy clean-up.  Polish Pottery distributes heat evenly for perfect baking.  It is safe for use in the dishwasher, microwave, freezer and oven. 
Coordinates with Fiesta Dinnerware colors:  Scarlet, Lapis, and Cobalt.
Holds almost 16 oz.  Perfect for the tall pour on a Keurig machine.

3.75" H x 4" D

Microwave, dishwasher, oven, and freezer safe.

Quality 1 pottery, handmade in Poland.

UNIKAT Polish Pottery